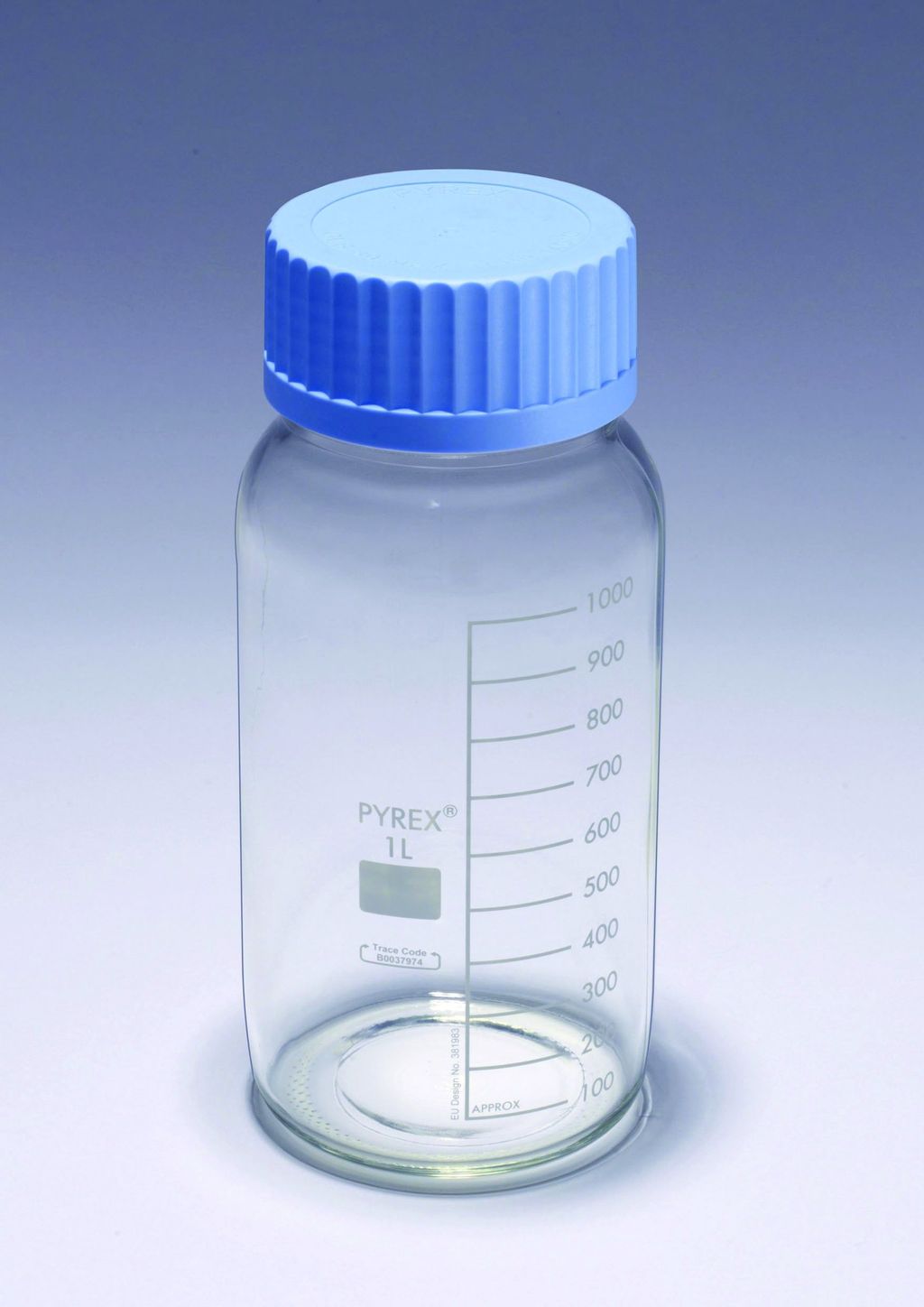 Bottles, media-lab, wide mouth, with cap and pouring ring
Brand: Pyrex
Product Details: Wide neck traceable media bottles
These bottles are a wide neck version of the standard GL45 screw cap media-lab bottles and are ideal for the storage of a wide selection of liquids, powders and solids where a standard neck bottle would be too narrow.
Bottles complete with polypropylene screwcap and drip-free pouring ring
Manufactured from Pyrex borosilicate glass with proven temperature and chemical resistance qualities
GLS 80 screwthread provides increased access compared to GL 45 bottles aiding filling and pouring
Ideal for use with viscous liquids, pastes, powders, granules and larger solids
White enamel graduations and marking spot
Autoclavable
Screwcaps and pouring rings can withstand temperatures up to 140°C

Never autoclave bottles with a fully tightened screwcap. Always slacken off. Failure to follow this procedure can lead to breakage of the bottle.
Variant and Specifications:
| | | | | |
| --- | --- | --- | --- | --- |
| Item Code | Capacity (ml) | Body diameter (mm) | Bottle height (mm) | Thread size (mm) |
| 1523/06 | 250 | 95 | 105 | GLS 80 |
| 1523/08 | 500 | 101 | 152 | GLS 80 |
| 1523/10 | 1000 | 101 | 222 | GLS 80 |
| 1523/12 | 2000 | 136 | 252 | GLS 80 |
| 1523/14 | 3500 | 160 | 271 | GLS 80 |
| 1523/16 | 5000 | 182 | 314 | GLS 80 |
| 1523/18 | 10000 | 227 | 389 | GLS 80 |
| 1523/22 | 20000 | 288 | 484 | GLS 80 |