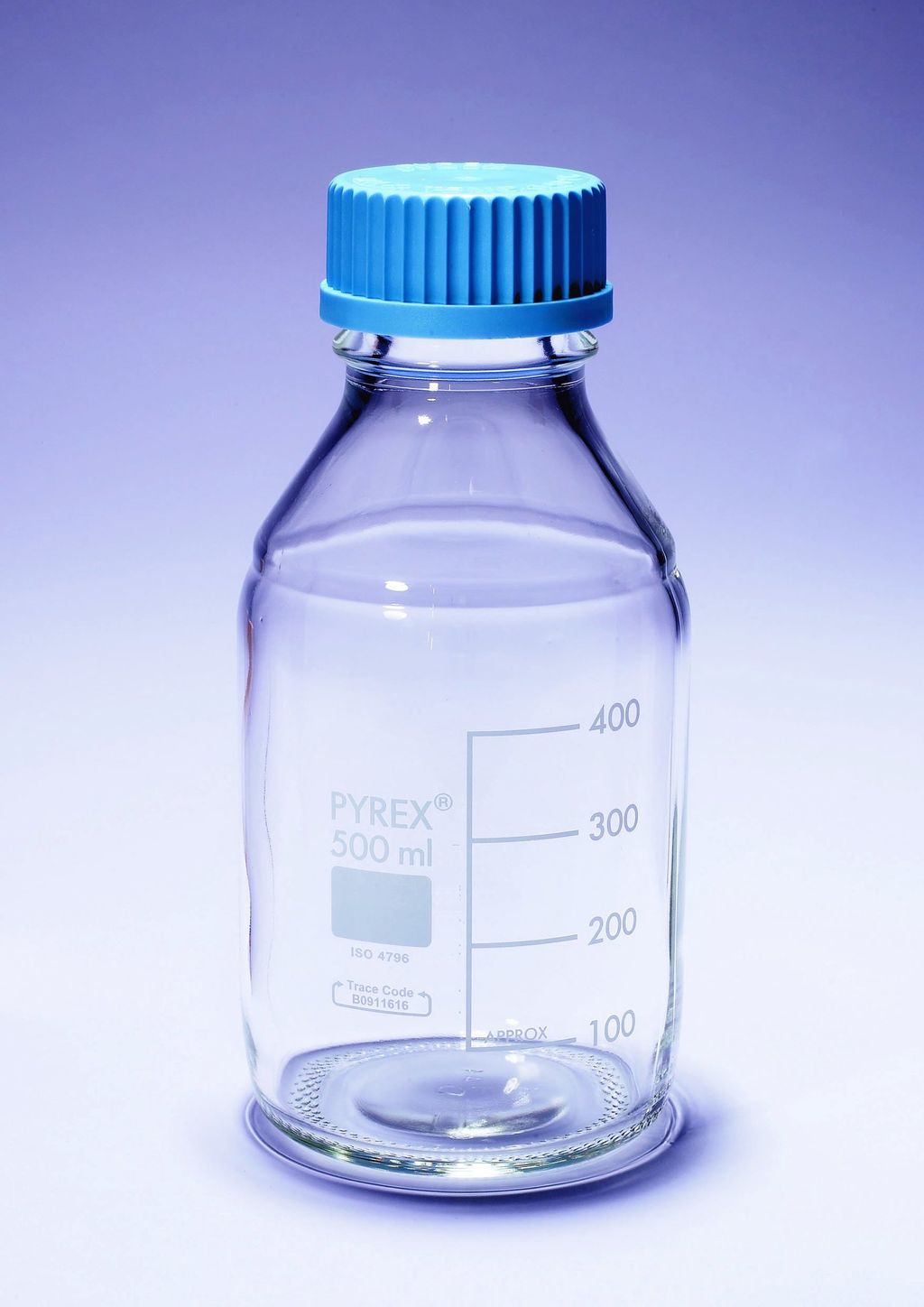 Bottles, media-lab, with cap and pouring ring
Brand: Pyrex
Product Details: The iconic blue cap laboratory bottle
Since this bottle was first introduced in the 1980's, this versatile design has become the most commonly used laboratory bottle. Originally designed for the preparation and storage of culture media, this bottle is ideal for many applications.
Bottles complete with polypropylene cap and drip-free pouring ring
Complies with ISO 4796
Ideal for mixing and storage of culture medium
Sloping shoulders for smooth pouring action
White graduations and marking spot
Manufactured from temperature and chemically resistant borosilicate glass
For use up to 140°C


Never autoclave bottles with a fully tightened screwcap. Always slacken off. Failure to follow this procedure can lead to breakage of the bottle.
Variant and Specifications:
| | | | | |
| --- | --- | --- | --- | --- |
| Item Code | Capacity (ml) | Body diameter (mm) | Bottle height (mm) | Thread size (mm) |
| 1516/01D | 25 | 36 | 70 | GL 25 |
| 1516/02D | 50 | 46 | 88 | GL 32 |
| 1516/04D | 100 | 56 | 100 | GL 45 |
| 1516/05D | 150 | 62 | 105 | GL 45 |
| 1516/06D | 250 | 70 | 138 | GL 45 |
| 1516/08D | 500 | 86 | 176 | GL 45 |
| 1516/09D | 750 | 95 | 203 | GL 45 |
| 1516/10D | 1000 | 101 | 225 | GL 45 |
| 1516/12D | 2000 | 136 | 260 | GL 45 |
| 1516/14D | 3500 | 160 | 295 | GL 45 |
| 1516/16D | 5000 | 181 | 330 | GL 45 |
| 1516/18D | 10000 | 227 | 410 | GL 45 |
| 1516/20D | 15000 | 258 | 465 | GL 45 |
| 1516/22D | 20000 | 300 | 510 | GL 45 |