Active humidity control creates a controlled environment for accelerated life tests and 85/85 tests.
Intuitive Operation
Touch, turn & go! Easy and intuitive operation with the unique Memmert ControlCOCKPIT and software AtmoCONTROL.
Stainless steel
Beautiful and functional. Memmert stainless steel is scratch resistant, hygienic, robust and ever-lasting
Unlimited communication
Memmert appliances are equipped with state of the art interfaces for programming and communication.
Safety
Safety of users and chamber loads: electronic temperature monitoring system, mechanical temperature limiter as well as an integrated auto-diagnostic system.
Service
Supply of spare parts, maintenance, repair, commissioning, IQ/OQ/PQ qualification, trainings and software instruction.
Perfect environmental simulation in the humidity chamber
This climate chamber offers the full range of comfort, reliability and safety. Thanks to active humidity control from 20 % to 95 % rh and unsurpassed homogeneity of temperature and humidity over the entire interior, it is ideally suited for environmental testing, environmental simulation, accelerated service life tests and 85/85 tests according to IEC 60068-2-67 and IEC 60068-2-78.
Temperature range up to +90 °C
4 model sizes (56 to 241 litres volume)
1 model variant: TwinDISPLAY
Active humidity control 20 to 95 % rh
Double doors as standard: Prevention of contamination and drops or rises in temperature, and at the same time an optimal view of the sensitive chamber load through wide-area heated inner glass door
Humid environment without condensation
The active humidity control ensures an ideal homogeneity of temperature and humidity as well as short recovery times after opening the door in this attractively priced and practically maintenance-free climate chamber. In combination with heating on all six sides, including heated inner glass door, it also minimises vaporisation in the interior and thus the risk of condensed water dripping onto the test object. An aluminium thermal conductive layer supports optimum temperature distribution and serves as a heat accumulator in case of a temporary power failure.
Comfortable equipment for accelerated service life tests
To ensure that environmental tests and accelerated life tests such as 85/85 tests run reliably and safely, the humidity chamber HCP offers a wide range of comfort functions: Standard feed-through on the rear panel, battery-buffered ControlCOCKPIT (option), process runtime starts with SetpointWAIT function only when the setpoint temperature is reached, alarm messages can be sent via e-mail or SMS with MobileALERT (option) and much more.
A Memmert humidity chamber offers unique advantages
intuitive and easy-to-use operating menu
Heating concept specifically adapted for a precise and homogenous temperature control
A wide range of options for programming and documentation of different temperature/humidity profiles via Software AtmoCONTROL
Alarm functions, three-fold over temperature protection and simultaneous display of all parameters provide safety for samples and cell cultures
almost exclusive use of high-quality and easily cleanable stainless steel for the working chamber and housing
3 years guarantee worldwide
Temperature Humidity Working Range HCP
Not all climate chambers are the same. The humidity content of the chamber load, the ambient conditions and the respective temperature-humidity working range are decisive factors in the selection of the right appliance. In the adjacent diagram, you can see the possible temperature/humidity combinations for our humidity chambers HCP.
Within the respective temperature-humidity range, permanent operation is possible (at an ambient temperature of 22 °C ± 3 K, relative humidity < 50 %). Condensation may occur in the threshold range. To which extent depends on the humidity content of the chamber load and the ambient conditions.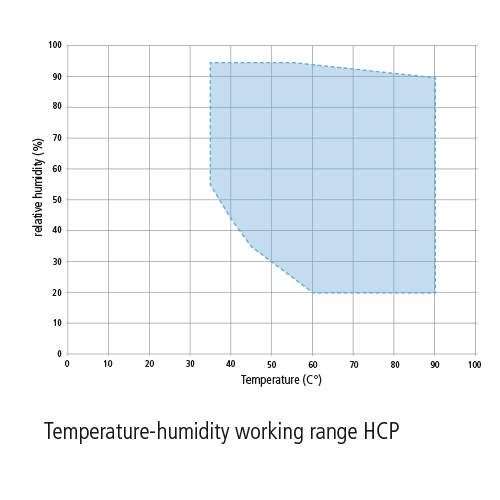 Standard units are safety-approved and bear the test marks

Models