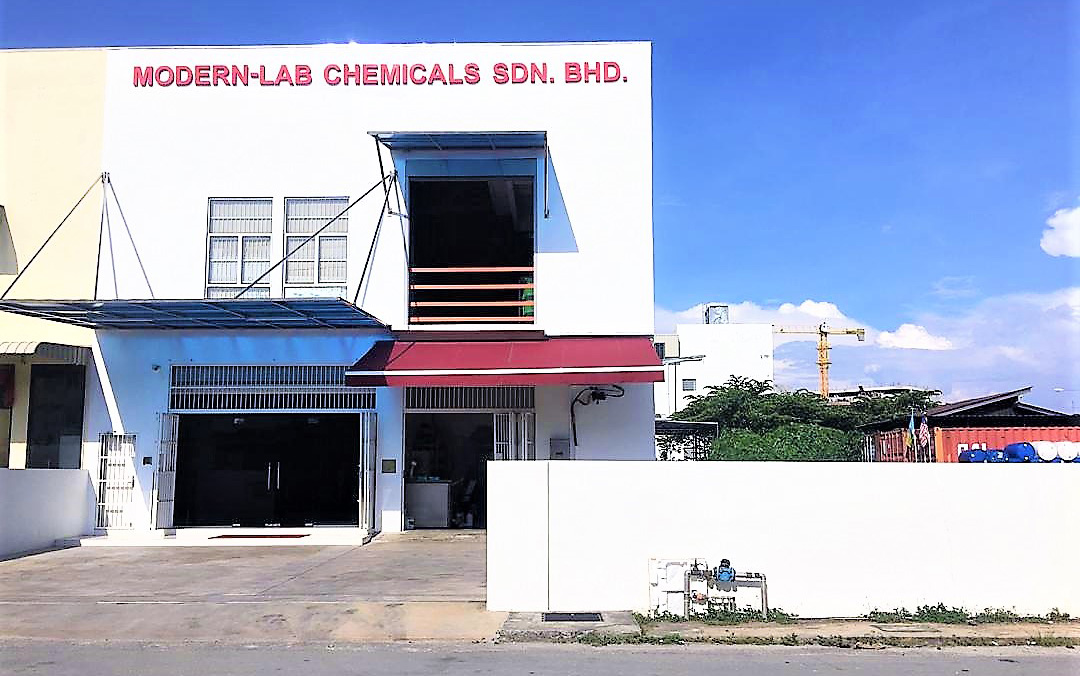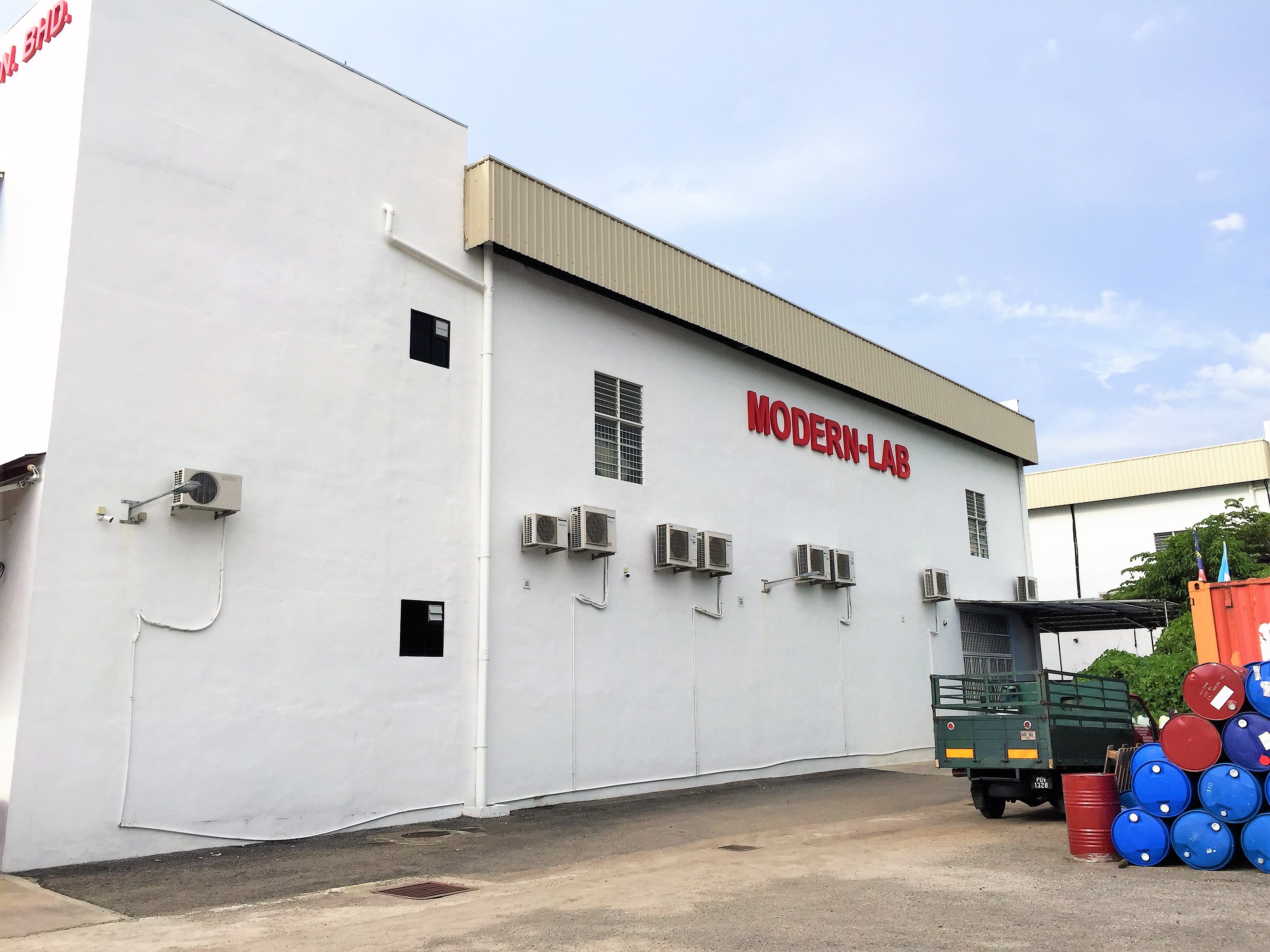 Modern-Lab Chemicals Sdn. Bhd. was founded in 1982 with the objective to provide "THE BEST IN SERVICE AND QUALITY PRODUCT". We are a distributor in the supply of chemicals, hand sanitizer, disinfectants, safety products, scientific equipment, specialty cleaning detergents, laboratory glassware & plasticwares, biochemicals & electrophoresis, filtration products, sealant / lubricants & greases, environmentally friendly biodegradable cleaners, laboratory equipment, and consultation services for cleaning applications for industrial, academic and medical sector in the Asia-Pacific region.
Our main office supports the northern region of Malaysia, and handles export to Hong Kong, Indonesia, Thailand, Singapore and China while our regional agents cover other parts of the Asia-Pacific markets.
We are ISO 9001 and GDPMD Certified.
We are committed in providing the best products and services to you.
MISSION
"We deliver Professional Scientific Solutions."
VISION
"To be the Leading Scientific Distributor across all industries."
QUALITY POLICY
We provide quality, compliance, and support to all our partners through fostering a culture based on an environment of customer centricity and continuous improvement with competent personnel.
Mastery
• To provide precise solution for customer in chemical & scientific consultancy.
• To serve customer with variety of top-quality branded product.

Learning & Improvement
• Equip knowledge in scientific field.
• Enhance Company Working Environment.

Customer Focus
• Customer Satisfaction is our priority (prompt & quality services).
• Comply with customer requirements, as well as Legal & Regulatory Requirements.
We are the authorized distributor for:
Fisher Chemicals
Laboratory reagents
Sigma-Aldrich
Organic / Inorganic reagents, Life Sciences & Labwares


Acros Organics
Laboratory reagents


Merck
R&D chemicals for research and professionals
Eppendorf
Liquid, Sample, Cell handling & Consumables


Erlab
Filtration Ecosystem
Serva
Biochemicals & Electrophoresis
Fisher Bioreagents
Molecular Biology, Protein Chemistry & cell culture biosciences


PALL
Filtration, Separation, Purification & Detection Products





Orapi - Applied
Specialty cleaning & maintenance detergent, adhesives, Lubricants / greases, degreaser.


Alfa Easer
Wide Range of Chemicals



Fine Chemicals
Complete laboratory reagents
VWR / Avantor
Global life sciences, advanced technologies and research industries.
Nordmark Biochemicals
Biochemicals and Electrophoresis
Perkin Elmer
Diagnostics, life science research, food, environmental and industrial testing.


Pyrex
Wide range of laboratory glass apparatus


Azlon
Wide range of laboratory plasticware


Kartell
The complete range of laboratory high quality plastic ware supplies


Brand GmBH
The complete laboratory glass apparatus supplies


Whatman
The filtration product for laboratory use


Hanna Instruments
Laboratory analytical instruments + electrodes, chemical reagent kits & buffer solutions.




Cell, protein, and molecular biology technologies range
Media, supplements, cells, & cell culture reagents
Purifying RNA for research & analysis
Barnstead
Analytical instruments for R&D laboratory


Branson
Manufacturers of ultrasonic cleaning machines of various sizes


Wheaton
The complete laboratory glass apparatus supplies
Advantech
Filtration products for laboratory & production applications


Kimble
The complete laboratory glass apparatus supplies
IsoLab GmBH
Wide range of laboratory glass apparatus


Memmert
Heating / Cooling oven, incubator climatic chamber, sterilizer & vacuum oven


Hirschmann
Wide range of laboratory glass apparatus
Duran
Wide range of laboratory glass apparatus


Quickfit
Wide range of laboratory glass apparatus


IKA
Liquid Handling Instrument


HACH
Water quality testing & analytical instruments & reagents


Shimadzu
Electronic balance


Mitutoyo
Measuring & testing instrument


BOC Sciences
A wide range of research chemicals and biochemicals including inhibitors, building blocks, carbohydrates, nucleosides, nucleotides, GMP Products, impurities and metabolites, APIs, natural compounds, ADCs, stem cell molecules, and chiral compounds.


Nalgene
The complete range of laboratory high quality plastic ware supplies


Nasco
Safe laboratory sampling bags


RaxVision
Microscope and Inspection systems
A&D / AND
Complete range of measuring equipment for the best precision
Mettler Toledo
Complete range of scales and analytical instruments
Liebherr
Laboratory Freezers and Refrigerator

Evoqua
Advanced technologies for pure water and water solutions



Stuart
Complete range of laboratory equipment



Corning
Wide range of glass materials and laboratory equipment



MBL
Wide range of laboratory glassware

Kitagawa
Gas Detector Tube System
Horiba
Instruments that measure and analyze automobile exhaust gas, and environmental, medical and scientific applications.
PRODUCT RANGE
All our products are from ISO certified companies from around the world: The United States, Germany, Switzerland, Australia, England, France, Belgium and Japan. A detailed list of our product brochure is available on request. Our product line includes:
ULTRA PURE CHEMICAL (Optima Grade)
These are special grade chemicals for the electronic and micro-electronic industries. They include materials used in Lithography, wafer fabrication, circuit board manufacturer and other related fields.
HIGH GRADE CLEANING DETERGENT (Environmentally Friendly)
These are aqueous critical cleaning products and has been specially formulated for specific applications. These cleaners that leave no interfering residues and have found increasing application in a wide range of industries as an environmentally responsive alternative to ozone-depleting compounds and hazardous solvents.
FOOD AND MEDICAL GRADE CHEMICALS
This type include BP, USP, food grade and pyrogen-free tested salts for medical and pharmaceutical manufacturers and the food processing industries.
INDUSTRIAL SOLVENTS
These lines of product include general and specialized solvents for both industrial and educational applications.
SPECIALTY CLEANING CHEMICALS (Metal Treatment Chemicals)
These product range if specially formulated to cater for specific cleaning applications for Hospital Industries, Metal parts manufacturers comprises of aluminium, copper, stainless steel, mild steel fabricator, etc.
RESEARCH AND DEVELOPMENT MATERIALS
This line of products includes general and specialized solvents for both industrial laboratory and educational applications, research and development establishments from well-known manufacturers like Fisher Chemical, Merck, BDH Chemical, R&M – UK, Sigma-Aldrich, Acros organic chemical, Alconox-critical cleaning detergent, Memmert, Duran / Pyrex – glassware, etc.
LABORATORY EQUIPMENT / INSTRUMENT
Our product range of lab equipment and instrument covers from incubators, overhead stirrer/mixer, drying oven, vacuum oven, refrigerators, climate chamber, humidity chamber, pH meter, ORP meter, analytical balance, precision balance, weighing balance, centrifuges and etc. from well-known brands such as Memmert, IKA, A&D, HANNA, Eppendorf and many more.
FILTRATION ECOSYSTEM
The filtration ecosystem from Erlab comprises of ductless fume hoods, filtered storage cabinets, laminar flow hoods and PCR workstations that protect laboratory personnel. With the chemical filtration ecosystem, you are protected from the moment a chemical enters the lab to whenever or wherever it evaporates. We offer the most advanced molecular filtration technology which can adsorb multiple chemical types simultaneously, so you are no longer limited to application-specific filters or the inability to adapt to new lab processes.
LAB APPARATUS - GLASSWARE AND PLASTICWARE
Our main brand for glassware are from PYREX, whereas our plasticware mainly are from AZLON. Both these brands cover a wide range of supply for your laboratory needs from beaker, measuring cylinder, flasks, graduated pipettes, bottles, vials, spatulas and etc.
LIQUID HANDLING
This broad range of products include manual pipettes, electronic pipettes, dispensers, burettes, automated pipetting systems, and many more. Eppendorf products are associated with state-of-the-art technology, outstanding ergonomics, and award-winning design.
LAB CONSUMABLES
Our consumables range cover a wide spectrum from pipette tips of all sizes, filtration products of all grades, petri dishes, KimWipes, lens cleaning tissue, deep-well plate, biohazard bags, forceps, tweezers, funnels, sieves and many more.
SAFETY PRODUCTS
Safety is first no matter the time and location. We prioritise safety inside and outside the lab therefore we offer personal protective products ranging from head protection, hearing protection, safety eyewear, protective clothing and many more to cover one's safety from all aspects.